Green Sauce Chicken (Crock Pot) OAMC
Mulligan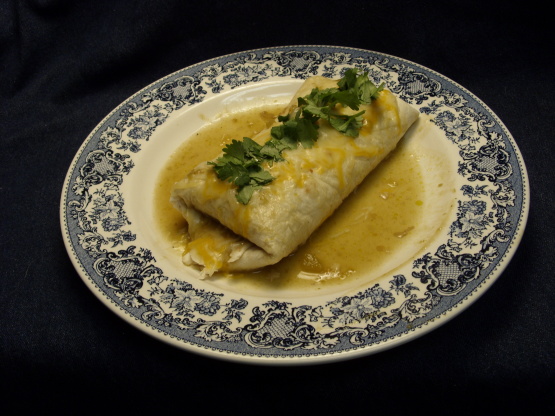 I came up with this when I have left over green enchilada sauce. DH really liked this. Great served with mashed potatoes or rice. This would be a great OAMC dish because you can put the sauce over the chicken before freezing and use it like a dump chicken dish.

The chicken was very tender and had a lot of flavor. I had a couple of small open cans of sliced jalapenos that I added just to get them out of the fridge. I ended up making a smothered burrito by shredding the chicken in the flour tortilla and adding sour cream, cilantro and then smothering the burrito with the sauce. Yum!
Brown chicken (or not).
Place in crock pot.
Add onions.
Pour enchilada sauce over chicken.
Cook for at least 4 hours.
You can make a gravy after chicken in cooked by adding cornstarch slurry to the sauce and cook on high for 15 to 20 minutes.
I did not brown chicken because I had bl/sl chicken thighs, but if I had skin on I would have browned first.