Green Salad With Lemon-Dill Vinaigrette
Debbwl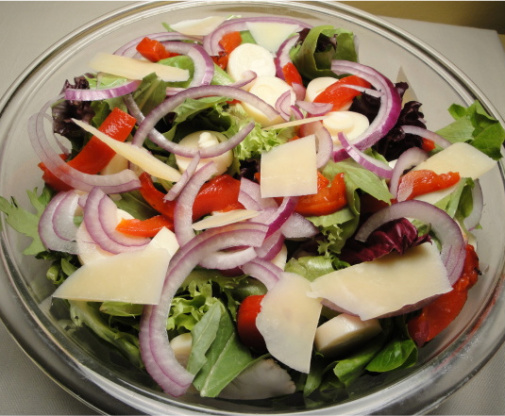 I can't remember where I found this recipe, but it's been pasted into my own hard-copy recipe book (which I used all the time until I discovered RZ). I love hearts of palm but haven't found too many recipes using them, so I make this often. I've served this salad to several people who said they had never even heard of hearts of palm, and they've said they were pleasantly surprised at how much they enjoyed the taste.

LOVELY! I love palm hearts, we get them in France all the time! I made this as posted but cut it right back for one, just me! I added a little tomato too, and also some extra dill as a garnish. The parmesan cheese really adds a great salty taste to the fresh palm hearts. A great little salad, I had to use mixed salad leaves, so not all of them were green, but they were good! Made for the recipe swap in the Aus/NZ forum and also for the Magic of Herbs in the photos forum. Merci! FT:-)
Cut hearts of palm (usually found in the canned vegetable section) into 1/2-inch slices. Slice purple onion lengthwise into very thin strips. Cut bell pepper into thin strips.
Combine baby lettuce, hearts of palm onion and red pepper in a large salad bowl. Whisk together all ingredients for the salad dressing and toss with salad mixture.
Top with shaved Parmesan cheese and serve immediately.