Prep 20 mins
Cook 30 mins

I found this recipe in a casserole cookbook by James Villas and made some changes to suit my tastes. This makes a great potluck or buffet dish.
Directions
Preheat oven to 350 degrees F.
Butter a 2-quart baking dish and set aside.
In a large bowl, combine the rice, 3/4 of the cheddar cheese, ricotta, sour cream, garlic, salt, and pepper.
Mix until well blended.
Add the spinach, bell pepper, chiles, and green onions.
Mix until well blended.
Transfer to prepared baking dish.
Sprinkle the remaining cheddar cheese over the top and bake until golden, about 30 minutes.
Most Helpful
This was a good quick dinner! Like others, I used low fat/non fat sour cream and ricotta (in much less quantities) and just a sprinkling of cheese on top to cut back the fat. It was still plenty creamy for us. We liked that the red pepper still had a bite, it was a nice contrast to the other ingredients, which were soft. I used brown rice, and halved the spinach. We thought the ratio was good. Next time I will double the chiles to increase the spice! We are big eaters, so this served little more than 2 people.

Had to make some low fat adjustments like a previous reviewer, but it still came out fantastic! I really liked the taste and texture, and it's good for you too, being high in vitamins A, C and calcium. I used 3 cups rice, 2% cheddar, low-fat ricotta and Greek 0% yoghurt instead of the sour cream (about 3/4 cup). As a result of my adjustments, it was probably less moist, but I think I preferred it that way. My BF and I ate about half of this for a vegetarian main dish. Thank you! Enjoyed the leftovers as well.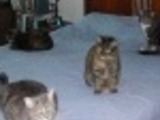 This was delicious, and it was so quick to put together! Also, I was able to use low fat sour cream and ricotta, and the results were still very rich-tasting. I used red bell pepper, but I think next time I'll use roasted peppers instead (I'd prefer the peppers soft, but those who want a little crunch should definitely prepare the recipe as written). Thanks for sharing!