NELady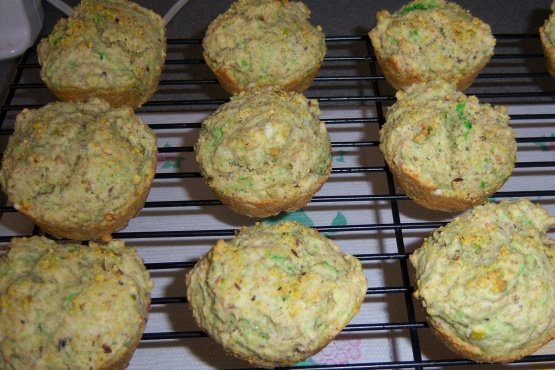 Source: http://www.preparedpantry.com/PistachioMuffins.htm

These were outstanding! We like all natural, all the way so the beige-light green color was A-OK. They were nice and light with a soft crumb. I did not use the cinnamon, nutmeg, lemon zest, or rum extract. In place, I used double the vanilla and 1/2 tsp of almond extract. I sprinkled a bit of course sugar with the fine ground nuts on the top. Both my son and husband said they were the best pistachio muffins they have ever had. That is saying something because they both love pistachio muffins from elsewhere.
Preheat the oven to 425 degrees.
Prepare the muffin tins by greasing them well.
Combine the dry ingredients including the zest and finely chopped pistachios in a large bowl.
Cream the butter and sugar together in a mixer with the paddle attachment. Beat the eggs, one at a time, into the creamed mixture until light and fluffy. Add the vanilla and rum extracts.
Starting with about 1/4 of the dry mixture, alternately add part of the dry ingredients and the milk, briefly mixing after each addition. Do not over-mix the batter.
Scoop the batter into the prepared tins. Sprinkle the tops with the coarsely chopped pistachios.
Place the muffins in the oven and immediately turn the temperature down to 375 degrees. Bake for 15 minutes or until the muffins test done.
After the muffins have cooled for five minutes, remove them from the tins to cool on a wire rack.
Baker's Note: It's the finely chopped pistachios that give the muffin a green hue. We used a nut chopper to chop ours finely. You can also chop them in a food processor.