jrusk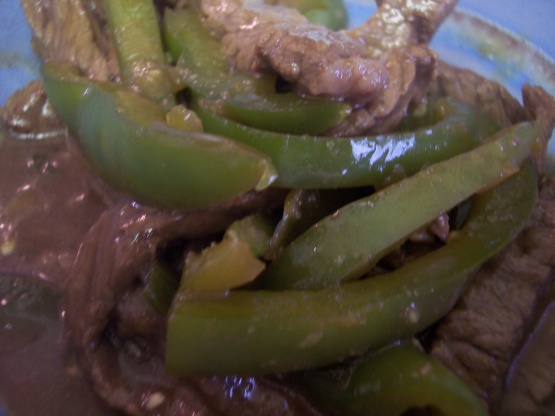 One of my old standbys,and my definition of comfort food.

just like mine except for the fact that i use a little crushed garlic and ond onion slices. Its quick and easy and tasty and on top of rice feeds more than you think.
1

lb round steaks or 1 lb sirloin steak (cut in strips)
1⁄4 cup soy sauce (use less if you prefer)

1

tablespoon oil

1

large green pepper (cut in strips)

1

cup water

1

tablespoon cornstarch
rice or noodles
Toss steak with soy sauce.
Brown meat on one side in oil over medium heat.
Add green pepper,cook and stir until meat is completely brown.
Mix water and cornstarch, add to meat and cook and stir until peppers are tender and sauce has thickened.
Serve with rice or noodles.