Green Pastures Cotillion Rolls
diner524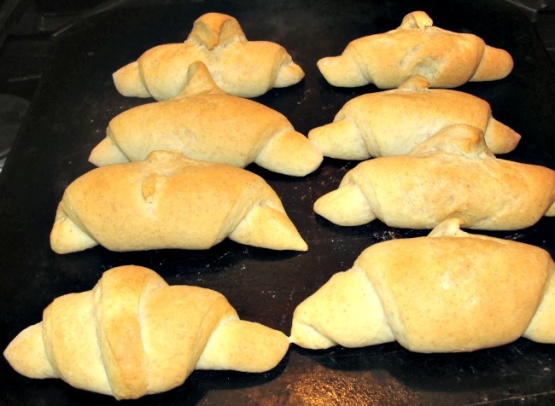 Green Pastures is a long-time favorite restaurant in Austin, Texas. Most of us only get to go there for a very special event; but you can make their rolls at home for an ordinary dinner in. I've had this recipe for years and years since I clipped it out of the Austin American-Statesman newspaper.
Great crescent rolls!! I made these as written although I scaled back to 1/4 of the recipe. I had made the dough and let it rise the first time, then a change in plans for our dinner changed. So I ended up putting the dough in the refrigerator until the next afternoon and I then rolled them out and up into crescent rolls and let them rise the 2nd time. They still turned out fantastic!!! DS, DH and myself enjoyed them for dinner!! Made for Spring 2013 Pick A Chef.
Melt margaine.
Beat eggs.
Combine milk and eggs with melted margarine; set aside.
Mix together warm wate rand dry yeast.
Mix this with with flours, salt, and sugar in a large bowl or stadn mixer with a dough hook.
Stir in wet mixture and knead on floured board until elastic and smooth (at least 10 minutes). Dough should be shiny.
Let the dough rise until it doubles in size (about 1 1/2 hours).
Divide dough into 3 equal balls.
Roll out each ball like a large (14-inch) pizza crust. Use butter on board to facilitate rolling.
With a pizza cutter, divide the dough into 16 triangular pie shapes.
Start with the large end, roll into crewscents and place on a greased cookie sheet.
Let rise until double (about an hour).
Bake at 360 degrees until brown.
Serve hot with butter.