Green Onion and Mushroom Omelet
Bergy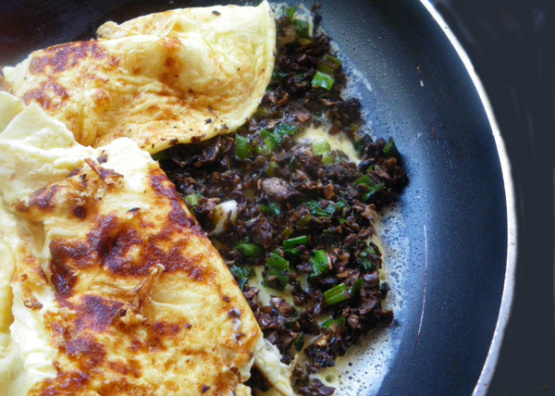 Epicurious. Serve with a spring greens salad with champagne vinaigrette.

Top Review by Bergy
Exceptional flavor! The chopped mushrooms with the vermouth & green onions is delicious The flavors roll together. I have never thought to chop the mushrooms so finely but it does increase the overall flavor. I did not use any butter just a spray of "No Oil" and it was still delicious. Served with a tomato & Spring mix green salad for a lovely dinner
Finely chop mushrooms in processor. Melt 2 tablespoons butter in medium skillet over medium-high heat.
Add mushrooms and 3 tablespoons onions; sauté 3 minutes. Add vermouth and boil until evaporated, about 1 1/2 minutes. Season with salt and pepper.
Whisk eggs, 1 tablespoon water, salt, and pepper in medium bowl to blend. Melt 1 teaspoon butter in small nonstick skillet over medium heat.
Add half of egg mixture. Stir with back of fork until edges begin to set.
Cook until omelet is set, lifting edges with spatula to let uncooked egg flow underneath, about 2 minutes.
Spoon half of mushroom mixture down center of omelet. Fold both sides of omelet over filling and transfer to plate.
Repeat with remaining butter, egg mixture, and mushroom mixture. Sprinkle omelets with remaining onions.