Debber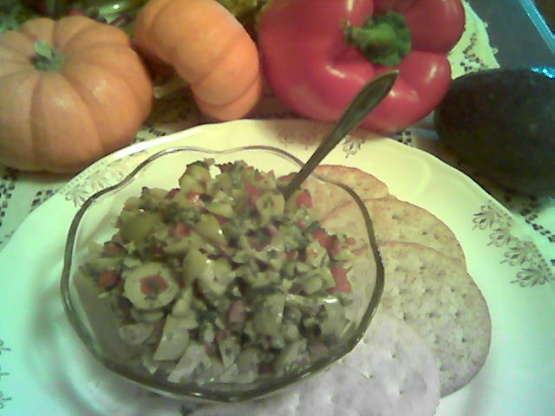 Serve with bread and fresh ricotta and a nice glass of wine. A recipe by Bill Granger.

Top Review by Debber
Zippy! I LOVE green olives, and I love lemon juice, but I'm not quite ready for THAT much lemon juice so added a few tablespoons of sugar to tone it down a hair. Used dried parsley and basil (couldn't find my frozen chopped basil in my newly rearranged freezer--now who would do such a thing as that?) would prefer fresh, but oh well. When you got it, you got it...when you don't -- punt! We'll be serving this on our "appetizer" buffet for Thanksgiving Day prior to the feast. Thanks for being a part of our celebration!!
Place all ingredients into a bowl and stir to combine.
Serve with bread and ricotta.