Green Olive, Basil and Almond Tapenade
gailanng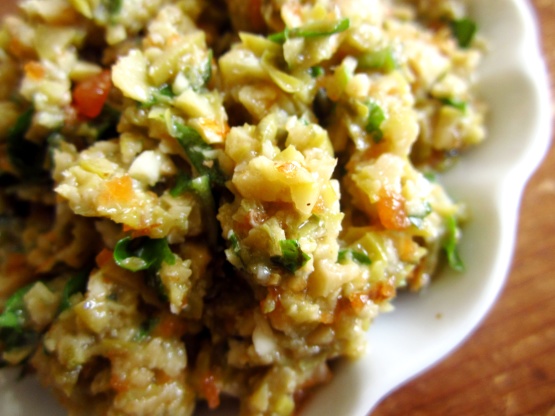 Add a few grinds of freshly crushed black pepper. Excerpted from My Paris Kitchen: Recipes and Stories by David Lebovitz. I spread this tepenade over hummus and it got raves.
Put the olives, almonds, garlic, lemon juice, and capers in the bowl of a food processor. (David Lebovitz suggests not using a mortar and pestle for this because he desires the slightly chunky bits of almonds in the finished tapenade.).
Coarsely chop the basil leaves, add them to the processor and pulse the machine a few times to start breaking them down.
Add the olive oil and a sprinkle of salt. Pulse the food processor until the mixture forms a coarse paste, one that still has a little texture provided by the not-entirely-broken-down almonds.
The tapenade will keep for up to one week in the refrigerator.