This recipe was found in the 2007 cookbook, More Smoothies for Life. Recent studies have found that folic acid might help slow the "...cognitive decline sometimes associated with aging" &, among other things, nutritional yeast contains folic acid.
Directions
Combine ingredients in a blender & puree until smooth!
Pour into 2 tall glasses & ENJOY!
Reviews
Most Helpful
Made one serving. I suggest 2 cubes when blending. Made for Feb Sun and Spice.

This is not very sweet, but it is oh-so-good for you! I love avocado, and found it to be a unique combination with the peanut butter. I might add a little sugar or maple syrup next time. Made for PRMR Tag Game.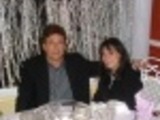 Star rating is on the high end of 4. I think I would like this better without the nutritional yeast but I understand the reason behind its inclusion. I added a small amount of agave to sweeten it enough that I convinced myself I wasn't eating liquid guacamole. Made for SUN & SPICE Event.