Green [& Deviled] Eggs 'n' Ham
gailanng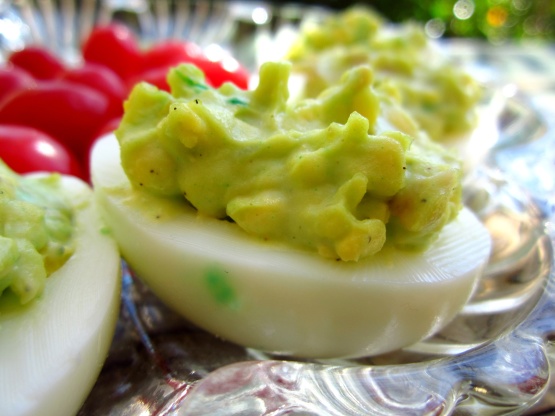 Just want Sam-I-Am to know I DO like Green Eggs 'n' Ham, & one of the easiest ways to enjoy 'em is by making a recipe like this! Obviously this recipe is for a group [or someone who REALLY, REALLY likes green eggs]! [I use ONLY Del Monte brand Sweet Pickle Relish, 'cause many of the other brands have a large amount of hig fructose corn syrup.] The 23-minute cooking time for the hard-cooked eggs is not included in preparation time.

Top Review by Sarah
These were great! I used yellow mustard and left out the food coloring. Very delicious.
10

large eggs, hard-cooked

59.14

ml mayonnaise

14.79

ml honey mustard

14.79

ml sweet pickle relish

0.13-0.19

ml green food coloring

1

slice honey-baked ham, finely chopped

1.23

ml lemon pepper

4.92

ml paprika (optional)
Carefully cut eggs into halves lengthwise. Just as carefully, scoop out yolks & into a bowl.
Mash yolks well, then mix in mayo, mustard & relish.
Add green food color ONE DROP AT A TIME, mixing well after EACH drop, until desired intensity of green is achieved.
Add chopped ham & lemon pepper & mix well.
Carefully spoon & slightly mound yolk mixture into each hollowed egg white half.
If using paprika, sprinkle lightly over the green deviled eggs & serve.