Green Curry With Chicken and Eggplant
Rita1652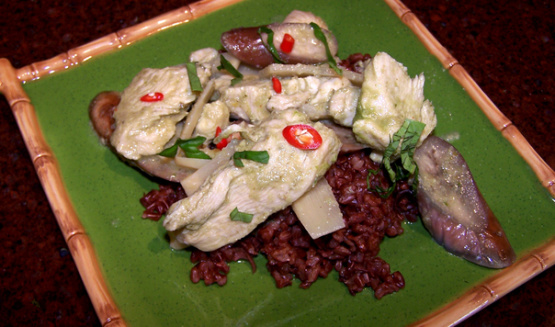 An authentic Thai dish. A light and fragrant curry enjoyed by many fans of Thai cuisine.

Top Review by Da Huz
Made an almost identical recipe from one of my Thai cookbooks last night. It was a little different: I used sweet potatoes instead of eggplant, and I pre-cooked my eggplant in the microwave since it takes longer to cook than chicken does. I diced it and added it at the end.
This is quick to make and is delicious!
Combine chicken with sauce ingredients and bring to a boil. Continue to simmer until chicken is done (approx. 8 minutes).
Add eggplant, bamboo shoots and lime leaves. Cook until eggplant is tender (approx. 3 minutes). Garnish with basil leaves and chili pepper before serving. Serve with rice.