Green Curry Chicken Meatballs
WiGal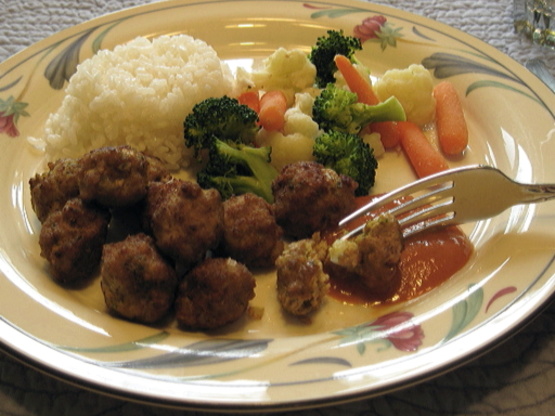 Nice fingerfood. Yummy with sweet chilli sauce or (my favourite) a mix of soy, rice wine vinegar and chili/sesame oil.

Top Review by WiGal
Delicious! I used Recipe#382316 as a sub for the green curry paste b/c I was unable to buy it in northern Wisconsin. Because the sub in had coriander or cilantro already in it I did not add more to the meatball. I used 1/8 cup of the paste, DS said it could have had more and DH said it was right on for spiciness. I made a concoction of cocktail sauce and nonfat yogurt for the dipping sauce and enjoyed that too. Thanks Just Jan for sharing. Made for Ed'n 8: MAKE MY RECIPE.
In a large bowl, mix all ingredients except oil together using your (clean) hands.
With damp hands, roll about 2 teaspoons of mix into a bowl; place on a large plate, cover and refrigerate 30 minutes.
Fill a wok or saucepan 1/3 full with oil: heat over medium heat until hot.
Cook chicken balls 4-5 minutes or until golden and cooked through.
Drain on kitchen paper.
Allow the oil to come back to temperature before continuing with another batch.