paagiela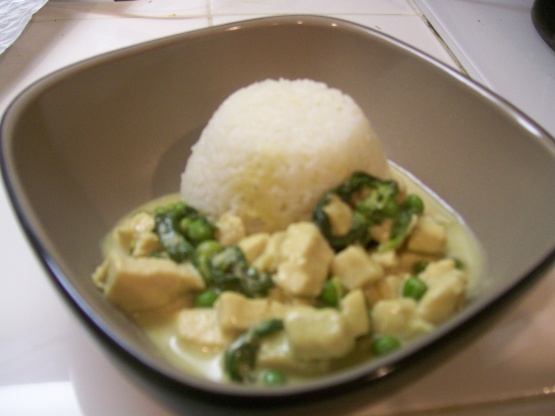 This came from a can of coconut milk I made no changes. It's quick and easy, we eat it weekly and it is so wonderful. If you like curry you will absolutely love this. If you have never tried curry this is a perfect recipe to put you in the "curry lovers club". Just try it- I promise you won't regret it. ***I did not want to change the original recipe, but wanted to note that I actually use 2-3 tbls. of curry, we like it with a lot of heat. Please....adjust the curry to your personal taste*** Also, I find the Mae Ploy brand that can only be found in an asian market is wonderful every time. I have tried curry bought in the grocery store and it is NEVER very good...the Mae Ploy is always potent and fresh tasting and I keep a big tub in my fridge for months and it stays good.

I always add spice to just about any recipe, so I did throw in some crushed red, but this recipe turned out to be excellent. So much better than I hoped. Maybe it was our curry paste, from a local asian market, but this packed flavor and a sweet heat that crept in the back of the throat. Thank you! :]
Pour the coconut milk into a saute pan, add the curry and simmer a minute or two.
Add the chicken simmer another few minutes.
Add the everything else except the peas and the jasmine rice and simmer for about 10 minutes.
Try it and if you want it a little hotter add some more curry.
Add the peas and simmer until the peas are tender.
Serve over rice.