Green Chili Grilled Cheese
loof751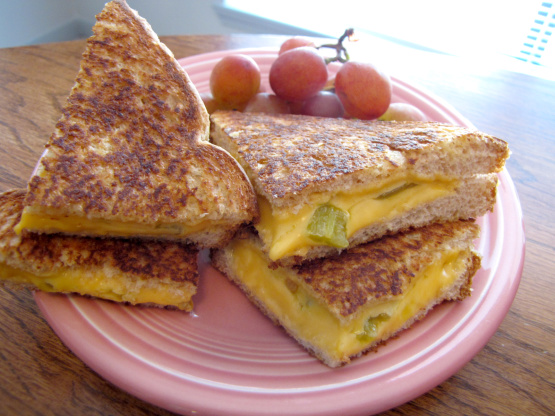 This is an easy, cheesy light lunch or dinner recipe. I made this with Tillamook cheddar and used sourdough bread and it was great. Adapted from Taste of Home.

This sandwich is a specialty of our golf club in the White Mountains of AZ. They have named it the "Pine Special" which i think is a good name. I always ask for a slice or two of tomato to be added to this sandwich. I think this makes it "extra-special".
Butter one side of all 4 slices of bread.
Top unbuttered sides of 2 slices of bread with one slice of cheddar each.
Sprinkle both slices with the chilies, then lay the other 2 slices of cheese on top of the chilies.
Top with last 2 slices of bread, buttered side out.
In a large skillet over medium heat, cook sandwiches on both sides until golden brown and cheese is melted.