Green Chile Wontons With Pineapple Salsa
Prep 25 mins
Cook 15 mins
This recipe was printed in a local dining guide. They were great at the Super Bowl party!
Pineapple Salsa

59.14 ml red onion, diced
1 large jalapeno, seeded and diced
2-3 green onions, diced
59.14 ml red bell pepper, diced
1 medium fresh pineapple, peeled,cored and diced or
566.99 g can pineapple chunks, draned and diced

Cheese Filling

113.39 g cheddar cheese, shredded
113.39 g monterey jack cheese, shredded
3-4 long green chilies, roasted,peeled,seeded and diced
2.46 ml salt
1.23 ml black pepper
1.23 ml cumin
1-2 clove garlic, minced
24 egg roll wraps, each 2 x 2 inches
flour, for dusting
vegetable oil, for deep frying
Directions
In a medium size bowl, combine all the ingredients for the salsa.
Stir in blend, cover and refrigerate several hours.
In a large mixing bowl, combine the cheeses, chile, salt, pepper, cumin and garlic; toss gently.
Place the egg roll skins on a clean surface or cutting board.
Lightly wet the edges with a small amount of water, and place a heaping teaspoon of the cheese filling in the center of each skin.
Fold into a triangle, dampen the edges, and press them together.
Dust with flour and deep fry in 3 inches of hot oil until golden brown.
Reviews
Most Helpful
Great wontons! I cooked them in my deep fryer and they were delicious. I did cheat a little by buying fresh pineapple pico de gallo from the grocery store. These wontons make a great party appetizer.
Made for the Tailgating Tag - Diabetic Forum.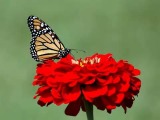 I don't let the 5% fat fool you, these are not health food. They are very greasy. The flavor is good and I will be making the pineapple salsa again, next time served with tortilla chips instead of the wontons.
PaulaG... LOVE LOVE these! Made them for a post Xmas not quite New Years party we hosted over the holiday. These were gobbled up! I only got one, but I am not bitter! I like the other reviewers idea about the super bowl. Thanks for a keeper. Happy New Year!