Green Chile Squares (Paula Deen)
ChefDLH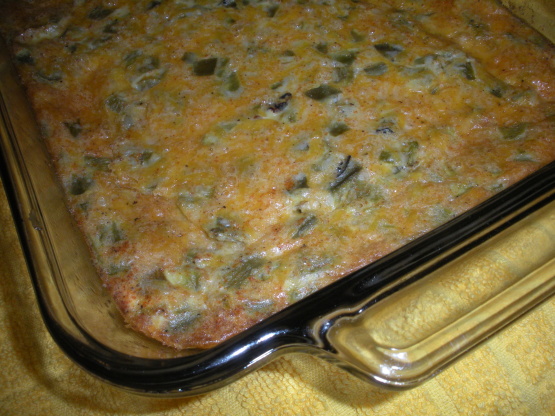 My husband was in the kitchen last weekend and watched Paula Deen make this recipe. Since we had all the ingredients on hand he made it for us that night, scaling it down to 2/3. We both liked it a lot and also enjoyed it for lunch the next day.
Preheat oven to 300°F.
Prepare 12x8-inch baking dish by spraying it with cooking spray.
In medium bowl, mix together the eggs, salt, pepper, and cayenne pepper sauce.
In large bowl, combine chiles and both cheeses. Pour the egg mixture into the cheese mixture and stir together well.
Pat the mixture down into the prepared baking dish and bake until the center is firm, about 45 minutes.
Once cooled, cut into small squares and serve.