Green Chile 'n Cheese Biscuit Bread!
Kathy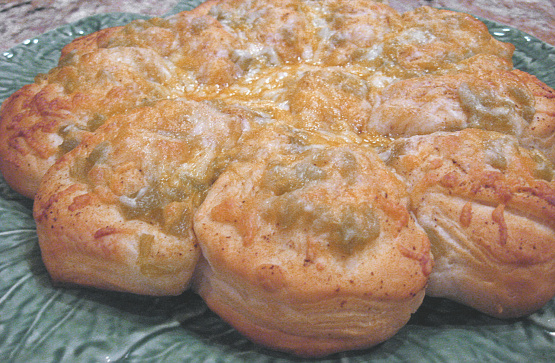 This is SO good and SO easy! The variations are also limitless. Not sure anymore where I found it. Better make two while you're at it, because it disappears before you can get any. :-)

I love these biscuits...!!! They are so easy to make with only 5 ingredients and the combination of flavors is awesone with olive oil, chili powder, green chiles, Monterey jack cheeese, and I also added one chopped garlic clove...delicious. Thanks for sharing this recipe, Chef Koechin.
Heat oven to 400°F.
Lightly grease a cookie sheet.
Separate the biscuits. Place one biscuit in the center and place the remaining 9 in a circle around it, edges slightly overlapping. Gently press them together. You should get about a ten inch circle(with pretty scalloped edges).
Combine olive oil (you could use melted butter) and chili powder. Brush over the biscuits. Sprinkle with chilies and cheese.
Bake for 12-15 minute until nice and golden brown.
To serve; pull them apart.
I have also used olive oil, chopped garlic, fresh minced rosemary and parmesan cheese.