Green Chile Chicken Sausage - Culinary Communion
Julesong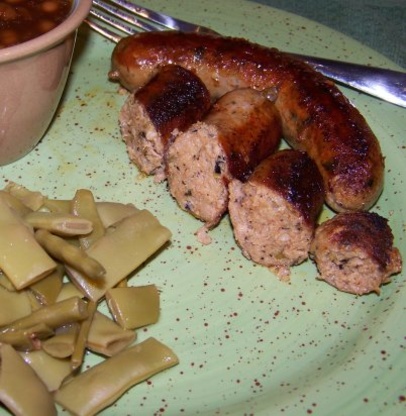 My favorite sausage from the Culinary Communion charcuterie class. Delicious! Recipe courtesy of Gabriel Claycamp, posted with permission. Makes approximately 10 pounds sausage.

Top Review by miltt
We cut the recipe in half to make 5 lbs. Instead of putting them in the casings, I rolled them in the shape of a large link sausage and flash froze them, then froze them together in a lg. ziploc baggie. I look forward to using them in some jambalaya I plan to make soon. The flavor of the sausage is wonderful and it really isn't hard to make and goes pretty quickly once you get everything together. We will enjoy these many times to come!
Process: toss the cubed chicken and fatback with the combined seasonings. Chill well. Grind through the fine plate (1/8-inch) of a meat grinder into a mixing bowl over and ice bath.
Combine: mix on low speed for 1 minute, gradually adding poblano chiles, jalapenos, and ice water. Mix on medium speed for 15-20 seconds, or until the sausage mixture is sticky to the touch.
Test: panfry a test patty. Adjust seasons and consistency before filling the prepared casing and shaping into 4-inch links.
Cooking: the sausages are now ready to prepare for eating by pan frying, baking, grilling, or broiling to an internal temperature of 150 degrees F, or hold under refrigeration for up to 7 days. (We usually vacuum pack and freeze ours.).
Notes: we reduced the amount of sweet paprika a bit and added in sweet smoked Spanish paprika, which is a favorite spice of mine. :) We have also substituted Anaheim peppers for the poblanos when we couldn't get poblanos, and have omitted the jalapenos at times, as well. It all depends on who we're making the sausages for and their individual tastes.