Green Chile, Chicken, and Corn Soup
Annacia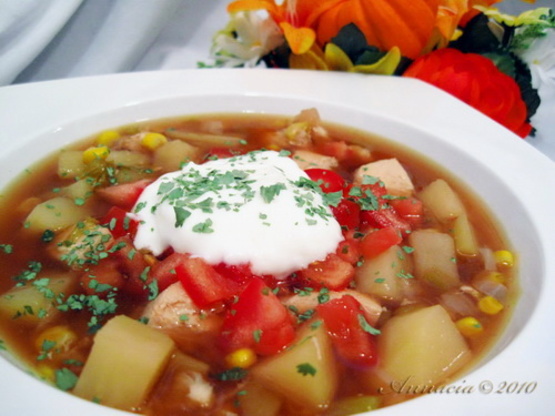 This soup has some of my favorite things in it! I really enjoy it in the fall, just as the weather is turning cold. I can usually still find fresh corn at that time, and it's so great to have a warm soup on a crisp, chilly night! This is from "Southwest Cooks!", a collection of Native American cuisine.

This recipe is fantastic. It's just pure magic (or science) how these flavors come together, even DH loves it! Although I had the fresh anaheim peppers, once I realized the recipe was going to have me roast them, I simply used the canned chopped chiles instead; otherwise, made as directed. Thanks, breezermom! Made for PRMR tag game.
Peel the onion and stud with the cloves. Combine the onion, broths, chicken and potato in a Dutch oven; bring to a boil. Cover, reduce heat, and simmer 20 minutes or until the potato is tender.
Remove the onion. Remove the chicken, reserving the broth in the pan. Let the chicken cool, bone it, and chop the meat. Return the chicken to the pan; set aside.
Cut chiles in half lengthwis; remove seeds and membranes. Place chiles, skin side up, on an ungreased baking sheet; flatten with the palm of your hand. Broil 3 inches from the heat (with electric oven door partially opened) 6 minutes or until charred. Place chiles in ice water; peel and discard skins. Coarsely chop the chiles, and add to the reserved broth mixture.
Stir in corn; bring to a boil. Reduce heat and simmer, uncovered, 4 minutes or until the corn is tender. Taste your soup, and add salt and pepper as needed (depends on the broth you originally used).
Ladle soup into individual soup bowls. Top each serving with avocado slices and chopped tomato. Garnish, if desired with sour cream and fresh cilantro.