Green Chile Chicken Alfredo
Brenda.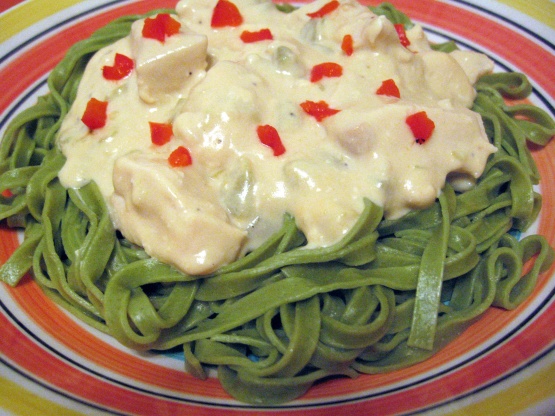 This is a perfect meal for the weeknights when you need something fast but elegant. This recipe uses a prepared Alfredo sauce; however, if you have more time you could make your own. The recipe was printed in Sabrosa a southwest dining guide.

This was very yummy. I ended up adding some chopped tomatoes, green onions and mushrooms in with the green chiles and it came out wonderful, with just enough spice. We didn't have spinach noodles, but I will try to get some for next time. Thanks for posting!
In a large skillet, heat 2 tablespoons of the olive oil and brown the chicken pieces until lightly browned and cooked through.
Remove the cooked chicken to a plate and keep warm.
If necessary, add the remaining 2 tablespoons oil to the skillet and sauté the garlic and green chile over medium heat until the garlic is soft.
Reduce the heat to medium low, add the Alfredo sauce and mix well.
Add the cooked chicken and heat through.
Serve over hot fettuccine and garnish with chopped jalapenos if desired.