Green Chile Cheese Pull-Apart Bread
drcbeau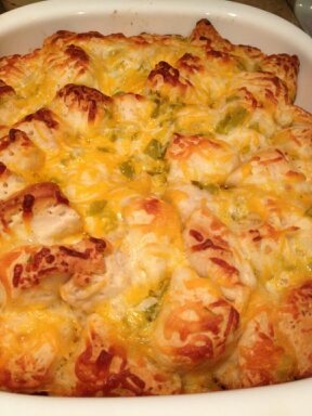 I just recently have discovered my love for green chilies. Paired with some cheese or bread or meat...GOOD EATS! I thought this would be a good way to add a little spice to the meal, but not burn up my tongue. This bread makes a great appetizer/snack or addition to a Tex-Mex meal.

Loved it! I made this for my son-in-laws 40th birthday party and it was a hit. My granddaughter informed me that I was to make it for all the future family get together's. I may play around with it and omit the green chili's and try pepper jack cheese instead of the cheddar....And maybe another time add a little cream cheese to the original recipe.. The recipes a keeper...thanks.
Preheat the oven to 350 degrees. Spray a 9x13 pan. Separate the biscuits into 16 pieces. Cut each biscuit into 6 pieces. Mix the cheeses, chilies, and biscuit pieces in a bowl and pour into the pan.
Bake 25-30 minutes or until biscuits are just starting to brown. Let stand 10 minutes.