Green Chile Calabasitas Burritos
ChefLee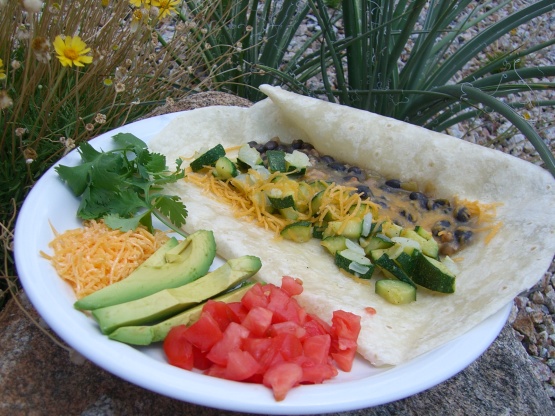 This is a mostly vegetarian burrito that I came up with using mild green chiles. I love the textures and flavors and it's light with the filling's main ingredients being zucchini and black beans. It is easy to put together and you can make it totally vegetarian or even vegan by substituting the cheese for your favorite veggie cheese and using meatless green chile sauce. Hope you enjoy!!

Heat the oil on medium heat in a medium skillet and then add the garlic, onions, and zucchini. Stir well and saute for 10 minutes, stirring often, until vegetables are soft. Stir in the salt and pepper then remove zucchini to a bowl.
In the same skillet; pour in the green chile sauce, green chiles, and black beans. Stir well to blend then heat through (about 5-7 minutes) until it starts to bubble a little.
Remove from heat and serve in warmed flour tortillas with the zucchini then sprinkle with cheese and wrap up burrito-style.
Garnish with your favorite toppings like tomato, avocado, and cilantro.