Green Chile and Cheddar Turkey Burgers (WW)
rpgaymer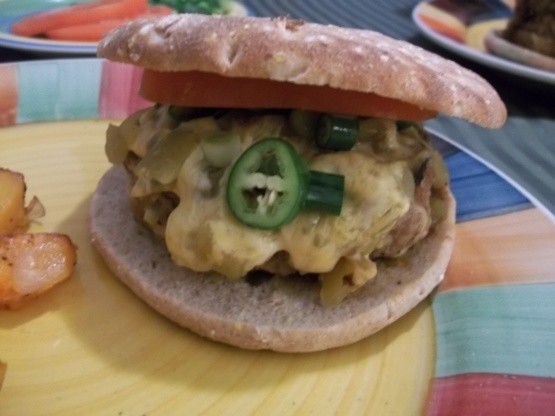 Only 7 points plus/serving. Recipe source: WW Tastier than Takeout cookbook
Great recipe! I love the idea of mixing shredded cheese with chopped green chilies and then melting it on the patty. The shredded zuchinni also made the burgers super-moist and HUGE. I do tend to like really thin patties for my burgers, but this was a nice change of pace. I topped these with tomato, green onions, and sliced serrano peppers, but I'd love to try pico de gallo on these in the future. It would taste great alongside the strong cumin flavor of the meat. [made and reviewed for Please Review My Recipe]
Combine first 5 ingredients (turkey - cumin) in a bowl and then shape into 4 patties.
Spray skillet with Pam and set over medium heat. Add patties to skillet and cook until browned (5 min/each side).
While burgers are cooking combine the chilies and cheddar in a small bowl.
Top burger with cheese mixture and then reduce heat to low and cover skillet and cook until cheese melts (3-5 minutes).
Serve burgers on sandwich thins topped with onion and tomato or condiments of your choice (keeping in mind point count if following the WW program).