teresas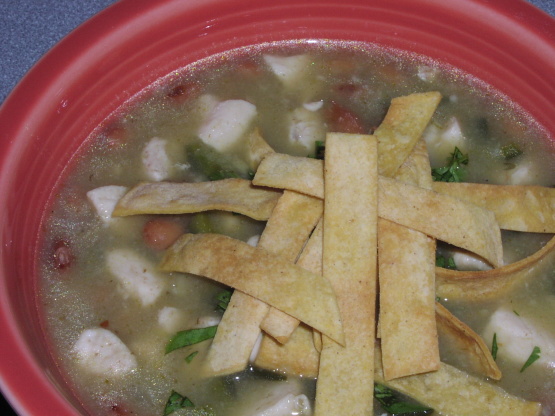 Taken from an iVillage message board.

At first I wasn't sure if this was going to be tasty enough for our liking. I kept tasting the liquid and felt it just didn't have the flavor I was expecting. But once it was done and I got the full spoon full with the beans, chili and chicken it was absolutely delicious. I love that this is low in fat and high in fiber. What a wonderful chili. The hardest part was grating the tortillas using the Parmesan cheese grater. What a mess I made. But it seemed to do the treat which was to thicken the chili. I did cut the recipe in half and got 3 good size servings. Thanks for posting. :)
Preheat oven to 400.
Cut 4 tortillas in half and then into 1 in strips.
Place in a bowl and toss with 1 tsp oil.
Spread onto a cookie sheet and bake 10 – 12 minutes or until crisp, stirring once.
In a bowl toss chicken with cumin.
Use a Parmesan cheese grater to grate remaining 4 tortillas.
Heat remaining 1 tsp of oil in a large sauce pan.
Add chicken and cook 5 minutes.
Remove chicken from the pan. A.
dd chili peppers, onion and garlic.
Cook and stir for 3 minutes.
Stir in chicken, beans, broth, enchilada sauce, and grated tortilla,
Bring to a boil.
Reduce heat and simmer uncovered for 15 minutes.
Stir in chopped cilantro and serve topped with baked tortilla strips.