Green Beans With Walnuts and Shallot Crisps
Rita1652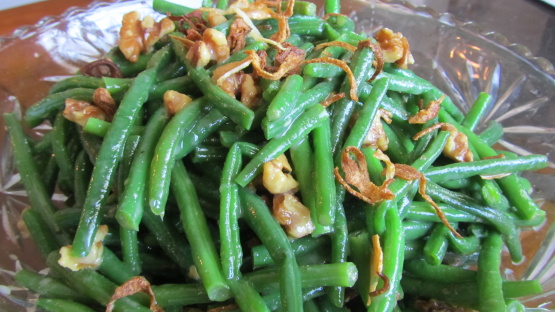 Source: Vegetarian Times Issue: November 1, 2008 You can prepare these Shallot crisps advance. Store them in a tightly sealed jar, they will keep at room temperature for 2 weeks. Cooking time includes 10 minute standing time for shallots.

I made for my Mom`s and Sisters Birthdays.Not one bean left! I did use red onions in place of shallots. Sorry the photo is not true. I took a quick photo placing just a bit of the crispy onions on top. I didn't want them to get soggy before bringing them to the party! Calories from fat should be taken into considerations. Because if you fry high and quick they won't absorb all the oil. Which most is discarded. Thanks to you veg tag March.
Make Shallot Crisps by spreading shallot rings on paper towel, sprinkle with salt, and cover with another paper towel then let them stand 10 minutes. Blot excess moisture from shallots.
Heat oil in small saucepan over medium heat, add shallots and fry 2 to 4 minutes, or until golden brown, stirring frequently.
Pour shallots and oil through fine mesh strainer, or remove shallots with slotted spoon.
Spread shallots on paper towels to drain and cool and discard oil.
Make Green Beans by cooking beans in large pot of boiling salted water 5 to 8 minutes, or until just tender and drain.
Whisk together vinegar, mustard, oil, and maple syrup in serving bowl, add green beans and toss to coat.
Season with salt and pepper, top with Shallot Crisps and chopped walnuts, and serve.