Green Beans With Shallots, Lemon, and Thyme
PaulaG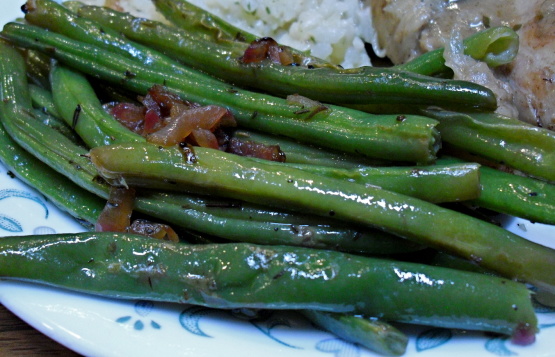 Entered for safe-keeping, from Sean Donnellan's "Something Tastes Funny" with recipes by Naidre Miller. This cookbook is geared to new cooks and non-cooks. Personally, I recommend revising the original 2 tablespoons butter to 1 tablespoon butter and 1 tablespoon olive oil. Note: the purple shallots generally available are "large" shallots, and 2 small shallots equal 1 large shallot, but the large shallot will be stronger. Old French recipes generally refer to small shallots.
This is a really good recipe for fresh green beans from my garden. The fresh lemon really makes the dish.
Wash beans in cold water. Trim ends of beans, either using a sharp knife or snap them off.
Heat a large skillet over medium heat and add butter and olive oil. Add shallots and saute for 30 seconds.
Add beans, sprinkle with thyme, salt, and pepper, and cover. Cook for 3-4 minutes, shaking pan once in a while to prevent them from burning or sticking. Check to see if tender: if not, recover and cook until desired doneness. (They should still have snap, but rawness should be cooked out.).
Add lemon juice, toss, and serve.