Green Beans With Red Onions
lauralie41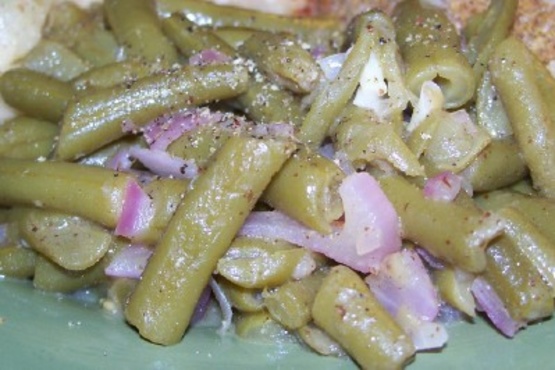 Best if served room temperature.

I didnt have fresh green beans on hand so I used canned and I enjoyed them a lot. DH didnt do well with them but when he took some over to my mom she loved them too. Put the green beans in a skillet and added the onion and dressing then let the beans warm thru. Will be making these again when I go to the Farmer's Market and get some fresh green beans. This recipe is a definite keeper! Made and reviewed for Kittencal's Going Green For March Recipe Tag.
Cut beans into 2" lengths, cutting off tips.
Drop beans into boiling salted water just covering the beans and return to a boil.
Simmer for about 6-7 minutes or until tender crisp; drain and let cool.
Combine mustard and vinegar in a bowl.
Beat with a wire whisk while adding oil.
Add red onions then salt and pepper to taste.
Add beans and toss until blended.