PanNan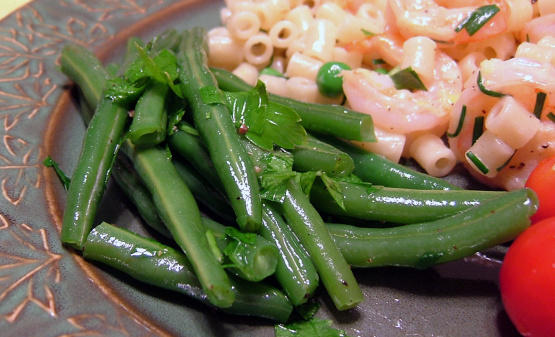 Baby green beans tossed in olive oil and parsley. We always have parsley growing in our garden and we love beans.You can steam the beans in the microwave if you prefer. You can use butter in place of the olive oil if your not keen on the oil

*Made for Australia/NZ Swap #81* Nothing like the taste of home-grown beans, which need VERY little to enhance the taste ! This was just perfect for spectacular beans , flash frozen fresh from the garden. Many casserole recipes, but just parsley and LIGHT olive oil, certainly brought out great basic flavor ! As long as the parsley holds out (in the whiskey barrel), we will be eating this til heavy frost ! Thanks for posting, **Jubes** !
Top an tail the beans if required. If you use baby beans then this step can be omitted.
Cook beans in boiling salted water, until cooked to your liking.
Strain and toss with olive oil and chopped parsley.