Green Beans With Onion and Garlic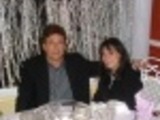 When summer's bountiful harvest is here, I look for ways to prepare the freshest vegetables in a flavorful way that does not overpower their natural taste. This is a good way to enhance the flavor of delectable, fresh green beans.
Directions
Steam beans until tender, about 10 minutes; keep warm.
Heat oil in large skillet over low heat. Add onion and garlic and saute slowly until translucent, about 8 minutes.
Transfer beans to serving dish. Add onion mixture and remaining ingredients. Toss well. Serve immediately.
Most Helpful
What a nice way to prepare green beans. I did cut back the amount of vinegar, as it is not a favorite of my household. Enjoyed the onion,garlic and cheese.
This was a nice change for green beans. I used a little red wine vinegar, not a full 1/4 cup though. I didn't want it to be too vinegary for the kids. All the kids ate them. Thanks for posting this recipe.
yum! I made this with the last bunch of summer's crop green beans, I increased the garlic way up and added in crushed chili flakes, loved this thanks for sharing Jackie!