Green Beans With Mushrooms and Peppers
Derf2440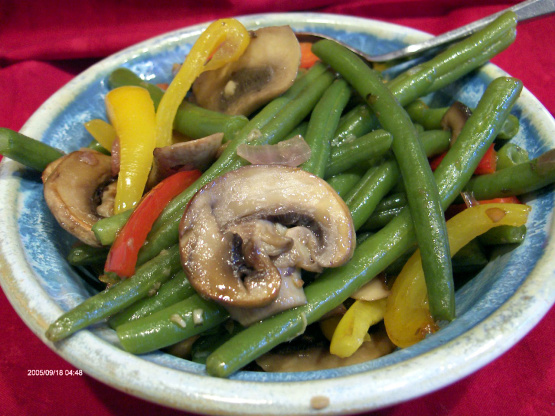 Very easy way to dress up green beans. This is a recipe I came up with on my own because DH wanted Green Beans for the zillionth time this week and I needed a change.

Delicious veggies!! great combination, mushrooms , green beans and peppers!! each compliments the other and we like the idea of seasoned salt, did the beans just so they had a nice crunch and drained and added them to the frypan, rather than the other way. we will be making these again, thanks for sharing!
Boil green beans and shallots in water with season salt until green beans are crisp tender.
Meanwhile, saute garlic, peppers, mushrooms and olive oil in small skillet over medium heat.
Drain green beans, add the garlic, peppers and mushrooms.
Add margarine/butter and gently toss.
Serve.