Green Beans With Lemon-Garlic Seasoning
Boomette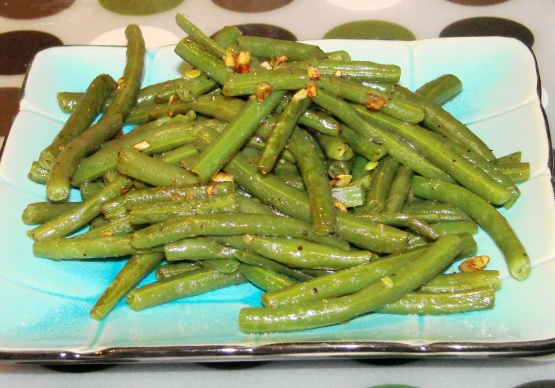 Quick & Easy recipe for green beans bathed in a lemon-pepper and garlic sauce. Very simple. From Southern Living's 40 Years of Our Best Recipes Cookbook.

We had beans from the farmer's market, not a full pound but I made as directed, regardless. The only change I made was to add extra garlic, which is standard for my family. I also left the parsley on the table for everyone to sprinkle on their beans, as DD didn't want any on hers. My only suggestion is to keep an eye on the beans, mine cooked in less than 30 minutes and started to stick because there wasn't any liquid left. Served as a side to some grilled chicken.
Place first 3 ingredients in a Dutch oven; cover and cook over medium heat for 30 minutes. Drain.
Melt butter in a Dutch Oven; add garlic and lemon pepper, and saute mixture over medium heat 1 to 2 minutes. Add green beans, and saute 5 minutes. Sprinkle with chopped parsley.