Green Beans With Cumin and Fennel
IngridH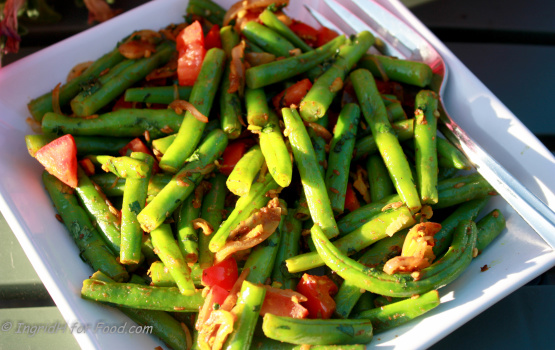 Entered for ZWT. From Madhur Jaffrey's "World Vegetarian". These spicy green beans go well with split pea and dried bean dishes, potato and sweet potato dishes, and eggplant dishes. Breads or rice may be served on the side. To complete the meal, yogurt drinks or relishes or a paneer or cheese dish may also be served.

These beans have LOTS of flavor! And they look so beautiful on the plate. I made as written, except that I didn't cook as long as called for. I like my veggies on the crunchy side, so I only put in half the water called for and cooked for about two minutes total after that. We thought they were wonderful, and would happily enjoy again. Made for ZWT8.
Put the oil in a large frying pan and set over medium-high heat. When very hot, add the whole cumin and fennel seeds. Stir for a few seconds.
Quickly add the shallots, garlic, and ginger. Stir for about a minute, or until lightly browned.
Add the beans and stir for another 2 minutes.
Add the coriander, cumin, turmeric, and cayenne and stir a few times.
Add 1/2 cup water and the salt and bring to a simmer. Stir and cover. Turn the heat down to low and cook gently for 5 minutes.
Add the tomato and cilantro. Stir, cover, and cook for another 4-5 minutes, or until the beans are tender.