Green Beans With Browned Butter and Hazelnuts
Zurie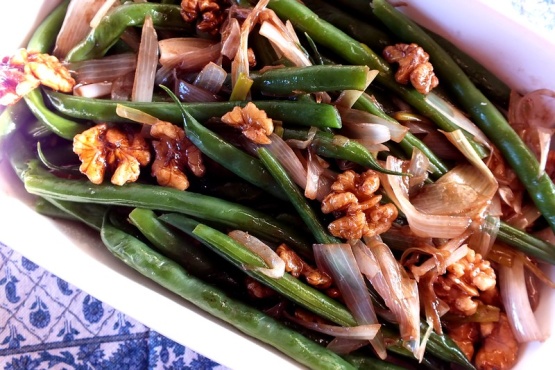 These are the best green beans I've ever tasted! The shallots were especially good in the beans, and I substituted walnuts for hazelnuts. I found this recipe on steamykitchen.com. I will definitely be making them again.

Top Review by Zurie
Made for PAC 2012. What a delicious side dish! And the flavours were so different from what I'm used to with green beans!! I could not find hazels, and used walnuts, like Elisechristiane did. This was a lovely side with a roast chicken, roast sweet peppers, red onion slivers and potato wedges. Thanks, will make this again!!
Heat a saute pan over medium-low heat. Add the hazelnuts and toast the hazelnuts until the skins are dark brown but not burned. Keep the heat low so that you don't burn the hazelnuts. It should take about 6-7 minutes. Let cool enough to handle and rub the skins off. You can use a towel or a garlic peeler. Coarsely chop and set aside.
Add 1 cup water to the saute pan and bring to a boil over medium heat. Add the green beans and cover with lid. Steam the beans for 3-4 minutes, until just tender. Immediately drain and rinse with cool water to stop the cooking.
Wipe the saute pan dry and return to the stove on medium-high heat. Add the butter and let the butter brown and bubble. Once the butter is browned, add the shallots and saute for 1 minute. Pour in the balsamic vinegar and the green beans. Use your spatula or large spoon to scoop up some of the browned balsamic butter up and over the green beans. Season generously with salt and pepper to taste. Stir in the chopped hazelnuts.