Green Beans With Bacon & Onion
lazyme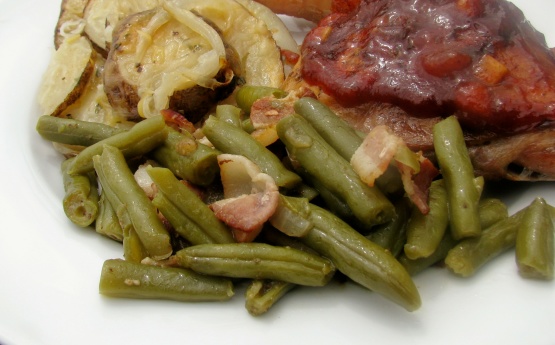 My mom made them like this ... When I make them now as an adult, I could just eat THESE for dinner :) These are not fancy by any means. 3 ingredients . Mm! The only thing is, all ingredients are "to taste" I guess I have to give some kind of measurement as guidelines though, so I'll give it my best shot! ;-)

Great taste and super easy recipe! Served it for Christmas dinner (green!) with maple carrots, baked herb/vegetable stuffing, mashed potatoes/gravy and turkey from the rotisserie. I only used about half the amount of bacon and it was still yummy--I did allow the flavors to meld for about 10 minutes before serving. Thanks Marlene for a colorful, easy and tasty sidedish.
Take scissors (I have a pair I use for food only) and cut up your bacon into a skillet.
Start frying over medium heat until you get some of the bacon grease"oozing" out.
Add diced onion.
Continue to cook until bacon is done.
Cook your green beans according to package directions.
When done, drain them and pour into a bowl.
Dump the fried bacon and onion (and grease) over the green beans.
Toss to coat.
Serve!
*I know, this sounds greasy, but when spread out over a good sized serving of green beans, it's really not that bad.
Also, I have used turkey bacon before and it works ok-- then you don't have the grease though, to fry up the onions--.