Green Beans With Bacon and Onions
lazyme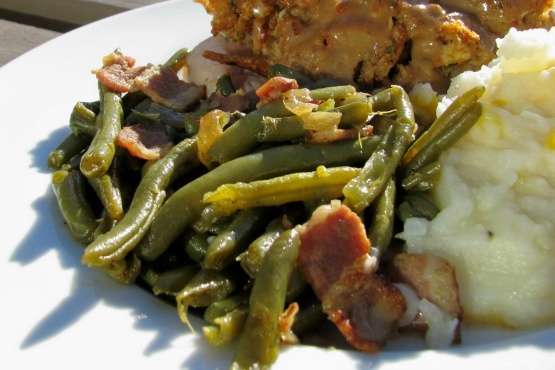 This is a Midwest Staple at any "Country Buffet".

I'll start with I had trouble wondering what kind of beans would warrant 5 stars. These do :) I scaled the recipe back for two and altered the cooking time because I prefer green beans with some 'tooth'. I added the beans to the pan when the bacon and onions were 2/3rd done and let them saute for a few minutes until the bacon was cooked. I added the broth and cooked it uncovered until the stock had been reduced to a glaze. No more than 15 minutes. We thoroughly enjoyed them! Thanks so much for sharing the recipe. Picture to follow
In a large heavy pot or Dutch Oven add the olive oil and butter.
Heat to medium high.
Add the onions and bacon.
Cook until the onions are soft and browning lightly, about 8 minutes.
Add the green beans and chicken stock.
Bring to a boil, reduce heat to low and simmer, stirring a few times until green beans are soft, about 30 minutes.
Your liquid should be cooked down, giving the green beans a "glazed" look, or coating if you will.
Salt and pepper to taste.