Green Beans With Bacon and Onion
lazyme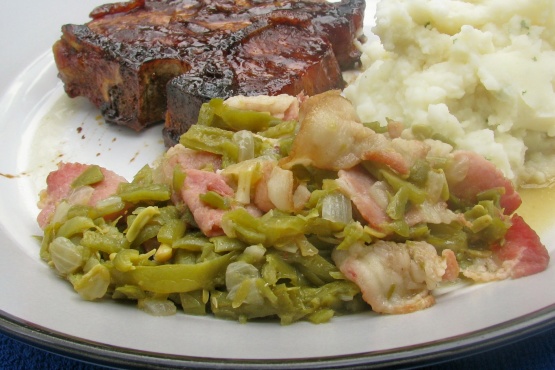 This is just a fast country dish that everybody likes.

It was ok, but I find canned beans to be colorless and limp. I fried the bacon until almost crisp; poured off the oil reseving 1 tablespoon. Then saute'd the onion until transluscent. I added fresh green beans cut into 1-1/2 inch lengths. I added 2 tsp of sugar, garlic salt, pepper and red wine vinegar. Covered the pan, and simmered until beans were crisp tender. Off the heat I sprinkled the bacon bits on top.
Fry the bacon and onion in skillet.
When onion is clear add the green beans, juice and all, and pepper.
Cook until juice is almost gone.