CarolAT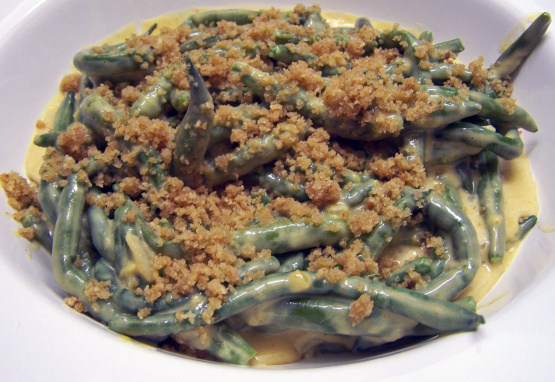 This recipe came from Taste of Home. Thanks goes to Heather Campbell.

every year there are traditional dish my family has for Christmas. We don't stray, might add. This year I introduced your Green bean Supreme. This is the best Green Bean dish I have had. Made for Christmas and all loved it, some having 3 helpings. Thanks for sharing.
Cook green beans according to package directions. Meanwhile, in a Dutch oven, saute onion in butter until tender.
Remove from the heat; whisk in the flour, salt, paprika, Worcestershire sauce and mustard until blended.
Gradually stir in milk. Bring to a boil; cook and stir for 2 min or until thickened and bubbly. Remove from the heat; stir in cheese.
Drain beans; gently fold into cheese sauce. Transfer to a large serving bowl. Toss bread crumbs and butter; sprinkle over beans.