Green Beans, Roasted With Garlic, Shallots and Pine or Hazelnuts
PaulaG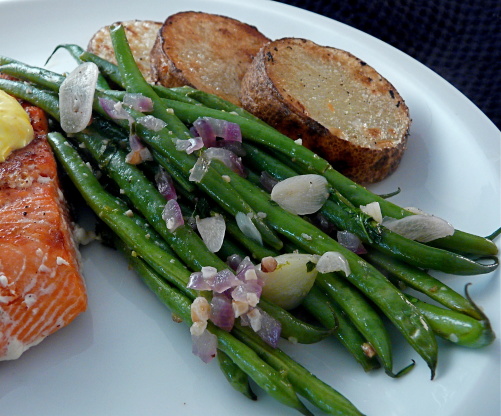 A lovely recipe found in Fine Cooking. I made it twice, the second time I did not have the hazelnuts and substituted dry roasted pine nuts and it was just as good.

YUM!! I mainly used what I had on hand. So, I used 1-2 shallots, frozen green beans, garlic powder, and hazelnuts and lemon juice. Tasted great. Even the leftovers.
Preheat oven to 450°F.
Slice the shallots length-wise into ¼ inch slices.
Put shallots, green beans and garlic in a large bowl, toss with the olive oil and the salt and pepper.
Transfer to a 10x15 glass or ceramic dish and roast until the vegetables are tender and very lightly browned, stirring once, 18 to 20 minutes.
In the meantime combine the parsley, nuts and lemon zest in a small bowl.
Mix with the roasted vegetables and serve.