IngridH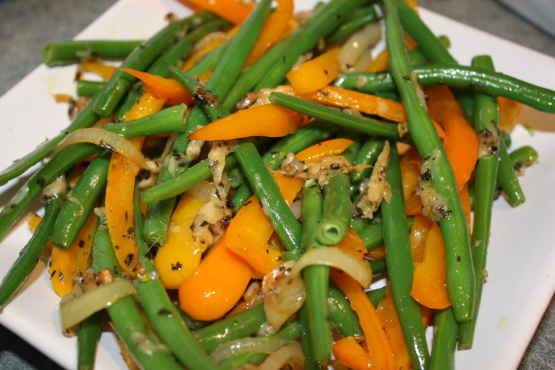 These green beans look very pretty with the red and yellow peppers added. Throw in the italian seasonings and you get a great side dish. From an Atlanta real estate company cookbook by Cathryn DuBow. The original recipe called for 1/4 cup vegetable oil, but I thought that was too much.

Very tasty and different than plain green beans. Left the beans whole, and sliced onions and peppers in long strips. Due to health considerations, I used just a few shakes of cheese. Will make this again when I want to impress company (or just the family).
Cook the green beans in boiling water to cover for 3 minutes; drain, and plunge into cold water. Drain well, and set aside.
Pour oil into a large skillet; place over medium heat until hot. Add sweet peppers, onion, and garlic, and saute for 3 minutes. Add the reserved green beans, basil, and next 3 ingredients; cover, reduce heat, and simmer for 7 minutes or until the vegetables are tender.
Remove from heat; stir in 1/2 cup cheese. Transfer bean mixture to a serving dish and sprinkle with the remaining 1/4 cup cheese.