COOKGIRl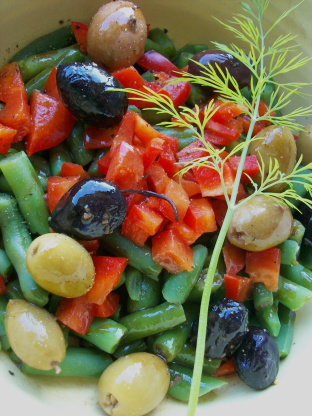 I adapted this recipe from a book called Cookbook of Foods from Bible Days. The original uses frozen beans and red wine vinegar, and you can, too, if you'd like. It also calls for boiling the beans, but I prefer them steamed. I also leave the pimientos out occasionally. If you want to use dried dill, use 1 teaspoon.

Great recipe! Made as directed with black olives and roasted red pepper in place of pimiento only because that's what I had on hand. Loved how quick this is to make, too. Thanks, Chocolatl!
Cook beans in a steamer or colander placed over simmering water. Leave uncovered for first 5 minutes, then cover and cook until tender but still crisp. Do not overcook. Lightly toss together with olives, pimientos, and dill.
Melt butter in a skillet over very low heat. Add bean mixture and stir in balsamic vinegar. Cook just until all ingredients are heated through.