Green Beans and Tomatoes in a Pesto Vinaigrette
jovigirl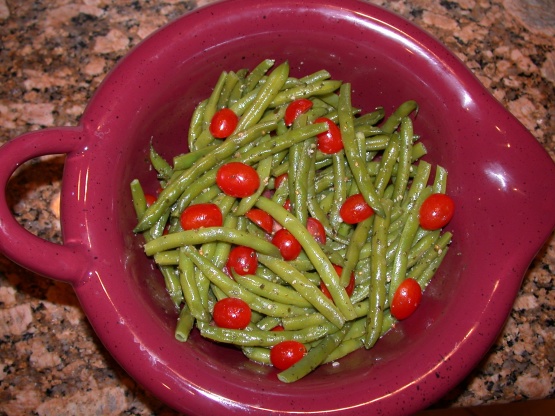 A wonderful and colorful veggie dish drizzled with a delicious pesto dressing. Can be served immediately or chilled up to 8 hours. Vinaigrette dressing is also great on other salads.
Cook beans in salted water until tender, about 15 minutes.
While beans are cooking, make pesto vinaigrette by combining pesto, vinegar and lemon juice.
Slowly stream in olive oil, whisking constantly until combined.
Add salt and pepper to taste.
When beans are done cooking, drain and rinse with cool water and pat dry.
In a large bowl, combine green beans, tomatoes and 1/4 cup of pesto vinaigrette, adding additional, if desired.
Season with salt and pepper to taste.