DuChick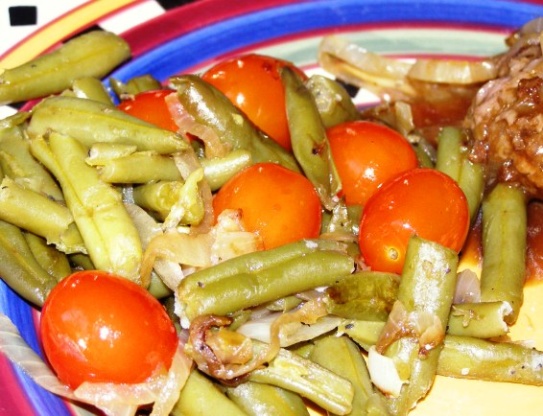 My husband came up with this recipe. It is probably one of the best ways I have ever tasted for making canned green beans fancy. Every time I make them I get rave reviews.

I made this tonight as a side dish to your fabulous recipe Recipe #343368. We aren't huge tomato lovers, so this didn't thrill us. Not to say it wouldn't thrill others because it was easy and very appetizing looking. It was a great change from the regular ol' green beans in a can. MERP'd for Spring PAC '12.
Drain green beans of all liquid.
Saute chopped onion in the oil till translucent.
Add green beans and cook covered stirring every so often for
about 10 minutes.
Add the tomatoes.
Cook till tomatoes start to burst.
Salt and Pepper to taste.