Bergy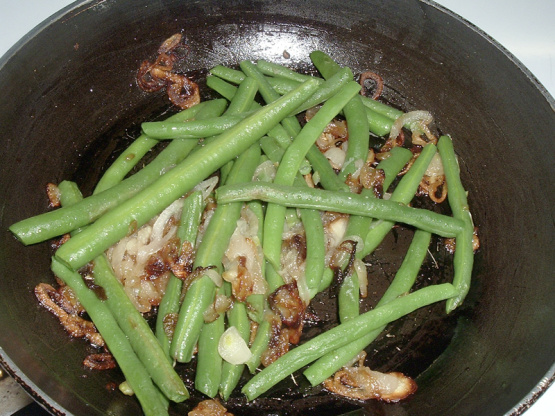 This is a very simple side dish, that has lots of flavor. I like to serve it in the fall in winter because it seems light and fresh and still well-balanced with creamy sides. I made it up all on my own ;-)

I just had this as a side dish for dinner. I can still taste it. Yummy! I did add some butter to the olive oil. I made it with Bacon Wrapped Chicken #79944. All three of us loved this and the flavors went so well together we were in heaven! My husband loved this recipe I will be making it a lot. Thank you for posting.
Peel and slice the shallots thinly.
Heat a sauce pan over medium heat and put the olive oil and shallots in the pan.
Saute the shallots until caramelized, maybe 20 minutes.
You can prepare this far ahead of time.
Take the stems off the beans but otherwise leave whole.
Steam them briefly until just tender but still crisp.
Toss the beans with the shallots and oil and season with salt and serve.