Green Beans and Caramelized Onions
lazyme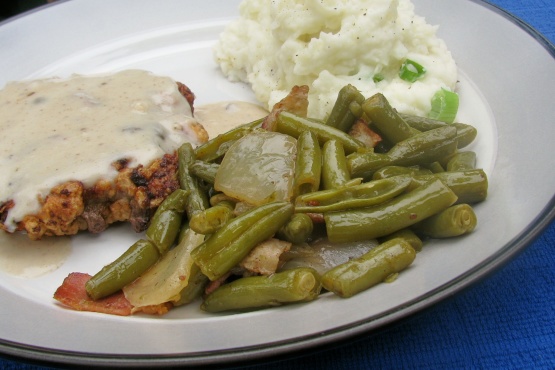 This is one of my favorite ways to make green beans. I use canned beans for convenience, but you could substitute fresh or frozen with great results too.
In a large non-stick skillet, cook bacon over medium heat 8 to 10 minutes or until crisp, stirring occasionally. Remove with slotted spoon; drain on paper towels.
Pour off all but 1-2 tablespoons bacon drippings.
Add onions; cook over medium-low heat 35 to 40 minutes or until very soft, stirring occasionally.
Meanwhile, warm green beans in microwave.
Stir in vinegar and sugar into onions. Increase heat to medium-high; cook and stir 1 to 2 minutes or until liquid is evaporated.
Stir in green beans and bacon; toss lightly.
Season with salt and pepper, as desired.
Serve immediately.