Green Beans and Broccoli With a Bacon-Lemon Topping
Prep 20 mins
Cook 10 mins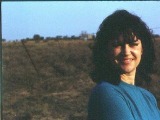 Lots of vitamins and a tangy taste! Blanch the veggies while you make the topping. If you want more sauce, use more lemon juice and also more sugar and mustard. Use young, fine green beans for this.
Directions
Prepare the vegetables and put it all in a pot with a little water, and bring to a boil. Parboil only, for about 2 - 3 minutes, until bright green but still a little crunchy. Add salt and drain in a colander or sieve.
Heat the butter and olive oil in a skillet, then add the chopped onion and bacon. Use fairly high heat, and stir often with a wooden spoon, until onions and bacon are soft, not brown or crisp.
Turn heat off, but keep on the hob while adding lemon juice, sugar (or substitute) and mustard. Mix all well with the back of a spoon.
Put the vegetables in a heated oven dish, then ladle over the bacon-lemon topping.
There won't be much sauce, as my idea was to flavour but not obscure the crunchy taste of the fresh veggies.
If the vegetables have cooled while you made the sauce topping, cover the dish with foil and leave in a warming oven to warm through -- but not for too long!
Nice with any meat dish and rice.
Most Helpful
Wow, this is a fab recipe, a real keeper! Loved this, the flavours blend together in the most enticing way, wonderful way to enjoy your green veggies! And so quick and easy! Thank you Zurie, this was made in memory of your dear husband.

Excellent side dish, and so easy to make. I steamed the broccoli and beans, and cooked the bacon and onions in a bit of bacon fat rather than the oil and butter. Zurie, we have similar tastes, so I used the specified amount of sugar and lemon, and the balance of flavours was perfect. Added a few cloves of garlic too. My only mistake, and it was my mistake, was to leave the broccoli and beans in the steamer with the lid on. Oops! They kept steaming even after I turned off the heat, so the veggies were much softer than I meant them to be. A lesson learned. I'll remember the next time. Thanks so much for posting this tasty recipe.

I loved the tangy/tart/sweet/salty flavors in this! I did use plain white sugar instead of the brown, and added some fresh cracked pepper to the shallot/bacon mixture. I took off the 1 star because our friends were kinda iffy on this. The girls liked it alot, but the boys said that if there was no bacon they wouldn't like it (typical boy!). Also, it seemed to me that the dressing stuck to the broccoli better, so I may just use broccoli next time.