Rita1652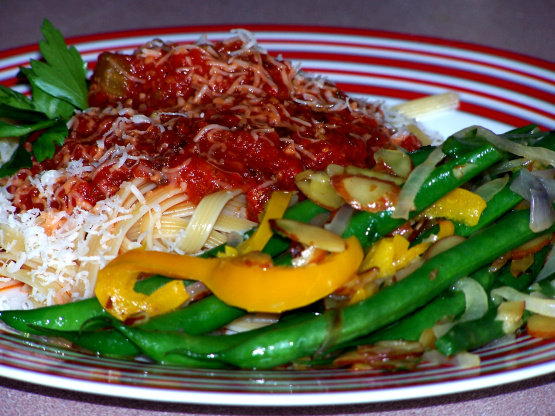 I think I got this off a Diamond Almond Bag! Not Really sure! Makes green beans not so boring!
Bring a large pot of salted water to a boil over high heat.
Add green beans and cook until tender-crisp, 2 to 4 minutes.
Drain immediately in a colander, then plunge into a bowl of ice water to stop the cooking and retain color.
Drain again.
In a large frying pan, melt butter with the oil over medium heat.
Add almonds and garlic.
Cook, stirring occasionally, until lightly browned and fragrant, 3 to 5 minutes.
Add red pepper and add red onions cook another 2 minutes.
Then add green beans, and thyme and parsley; cook, stirring, until the onions are softened but not browned and beans are heated through, 1 to 2 minutes.
Season to taste with salt and pepper.