Green Bean Salad With a Creamy Tarragon Dressing
Rita1652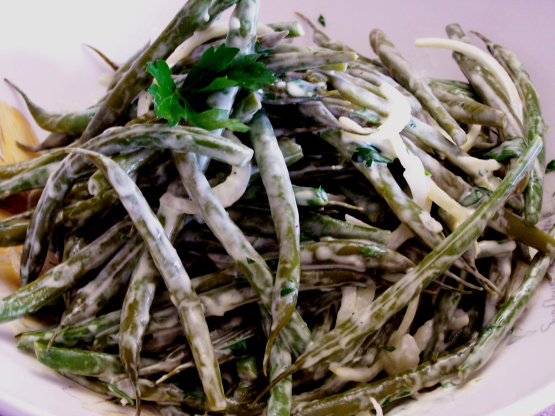 This is an easy and delicious salad for summertime. Especially when the green beans are in their peak season. This recipe can be made using my Herbal Tarragon Vinegar #2882.

This was good - I used the prepared Tarragon vinegar and fresh tarragon. I had some matchstick carrots from another recipe attempt which I had made leftover - so I added them - just for color. I had some while still warm - and actually preferred them that way. A nice side dish to chicken or beef meal. In a zip lock bag for transport - this would be perfect for a picnic or pot luck.
In a saucepan over high heat in 1 inch of water, heat green beans to boiling.
Reduce heat to low, cover and simmer 5-10 minutes or until green beans are tender crisp; drain.
In a bowl combine the mayonnaise, tarragon vinegar, salt, mustard and pepper; mix well.
I like to put the green beans and sliced onions in a large zip-lock bag (less clean up) along with the tarragon dressing mixture, fumbling for dressing to coat green beans.
If you don't have a large zip-lock bag you can place the green beans and sliced onions in a large dish and toss to coat with the tarragon dressing.
Cover and refrigerate 2 to 3 hours hours for flavors to blend before serving.
Garnish with freshly topped tarragon.
Serve and Enjoy!