PaulaG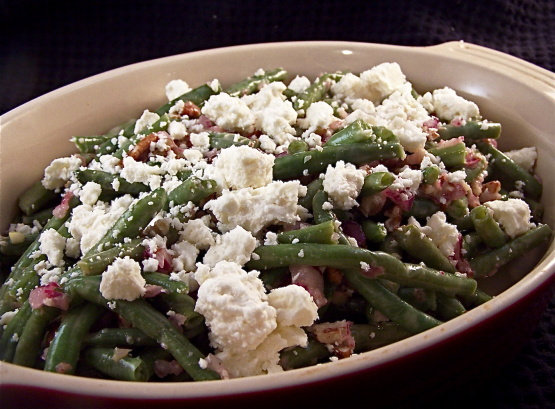 A great recipe to take to a cook out or pitch-it. Fairly easy to make and you can make it ahead of time since its a chilled dish.

SO simple, easy to do! DEFINATELY compliments your party too! Like last reviewer, used a little over a pound of beans too! Basically, the amount is up to YOU! THANKS!
1. Cook green beans in boiling salted water to cover 8 minutes or until crisp-tender. Drain and plunge into ice water to stop the cooking process; drain and pat dry. Place in serving bowl; cover and chill at least 2 hours.
2. Whisk together first 6 ingredients in a small bowl; gradually whisk in oil until blended.
3. Add chopped onion and 1/2 cup of LemonVinaigrette prepared in step 2 to beans, tossing to coat. Sprinkle with feta and walnuts. (you can use leftover vinaigrette to marinate artichoke hearts or chicken breasts.).