Green Bean & Cauliflower Casserole
Bergy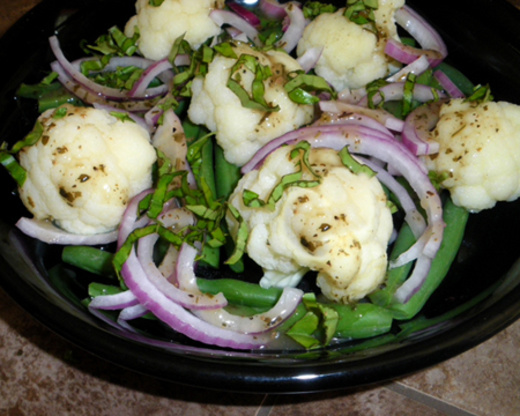 This is a very simple tasty recipe. I started out looking at a Kraft recipe but changed everthing including the veggies so there is no longer even a slight resemblance to it. Use Italian dressing or Sundried tomato. Any one will do. If you are not counting calories use a full fat dressing.
Par boil your beans & Cauliflower until just crisp tender, apprx 4 minutes.
Arrange your beans and cauliflower in an oven proof dish.
Sprinkle on the onions.
Pour the dressing over all.
Lightly cover with foil.
Bake in 375F pre heated oven for 15 minutes.
Remove the foil continue baking for a further 15 minutes.
Your veggies will still be crisp. If you want them well done bake for a further 10 minutes.